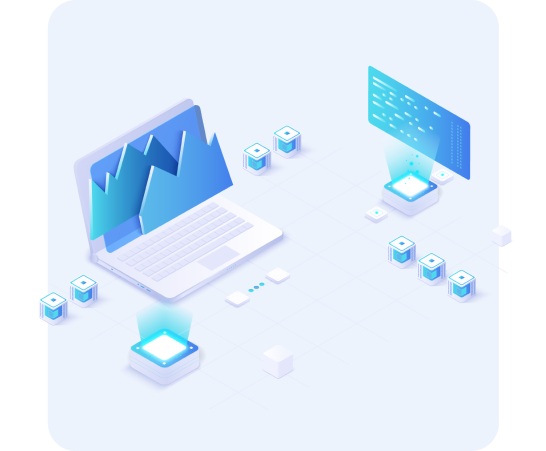 DECICE aims to develop an AI-based, open and portable cloud management framework for automatic and adaptive optimization and deployment of applications in a federated infrastructure, including computing from the very large (e.g., HPC systems) to the very small (e.g., IoT sensors connected on the edge).
Working at such vastly different scales requires an intelligent management plane with advanced capabilities that allow it to proactively adjust workloads within the system based on their needs, such as latency, compute power and power consumption. Therefore, we envision an AI-model, which can use a digital twin of the resources available, to make real-time scheduling decisions based on telemetry data from the resources.
The DECICE framework will be able to dynamically balance different workloads, optimize the throughput and latency of the system resources (compute, storage, and network) regarding performance and energy efficiency and quickly adapt to changing conditions.
The framework also gives the necessary tools and interfaces for the administrators and deployment experts to interface with all the infrastructure components and control them to achieve the desired result. The integration of the DECICE framework with orchestration systems will be done through open standard APIs to make it portable, modular and extensible
Last but not least any planned clustering activities such as trainings, workshops and webinars will be held in close cooperation with OEHI .
EDGE CLOUD DATA CENTERS KUBERNETES FRAMEWORK HETEROGENOUS SYSTEMS HPC IoT DIGITAL TWIN AI-SCHEDULING MACHINE LEARNING DEEP LEARNING SYSTEM MONITORING

|

LEVERAGE A COMPUTE CONTINUUM ranging from Cloud and HPC to Edge and IoT

AI-SCHEDULER supporting dynamic load balancing for energy efficient compute orchestration, improved use of Green Energy, and automated deployment.

API that increases control over network, computing and data resources.

DYNAMIC DIGITAL TWIN of the system with AI-based prediction capabilities

REAL-LIFE USE CASES of DECICE framework (usability and benefits).

SERVICE DEPLOYMENT with a high level of trustworthiness and compliance with relevant security frameworks.
DEVELOP a cloud management framework based on open source and standards that can seamlessly connect and deploy applications to devices across the HPC, Cloud and Edge continuum.
PROVIDE system administrators and DevOps, tools to access, control and manage the continuous service environment that includes the deployment of network, computing and data infrastructures and services.
CREATE a dynamic digital twin of heterogeneous infrastructure used by a diverse set of applications using monitoring, simulation and AI-based forecasting tools.
ENHANCE application performance, reliability, throughput, energy efficiency and cost by automating decisions for application dapation and optimisation with the help of AI models.